SV-2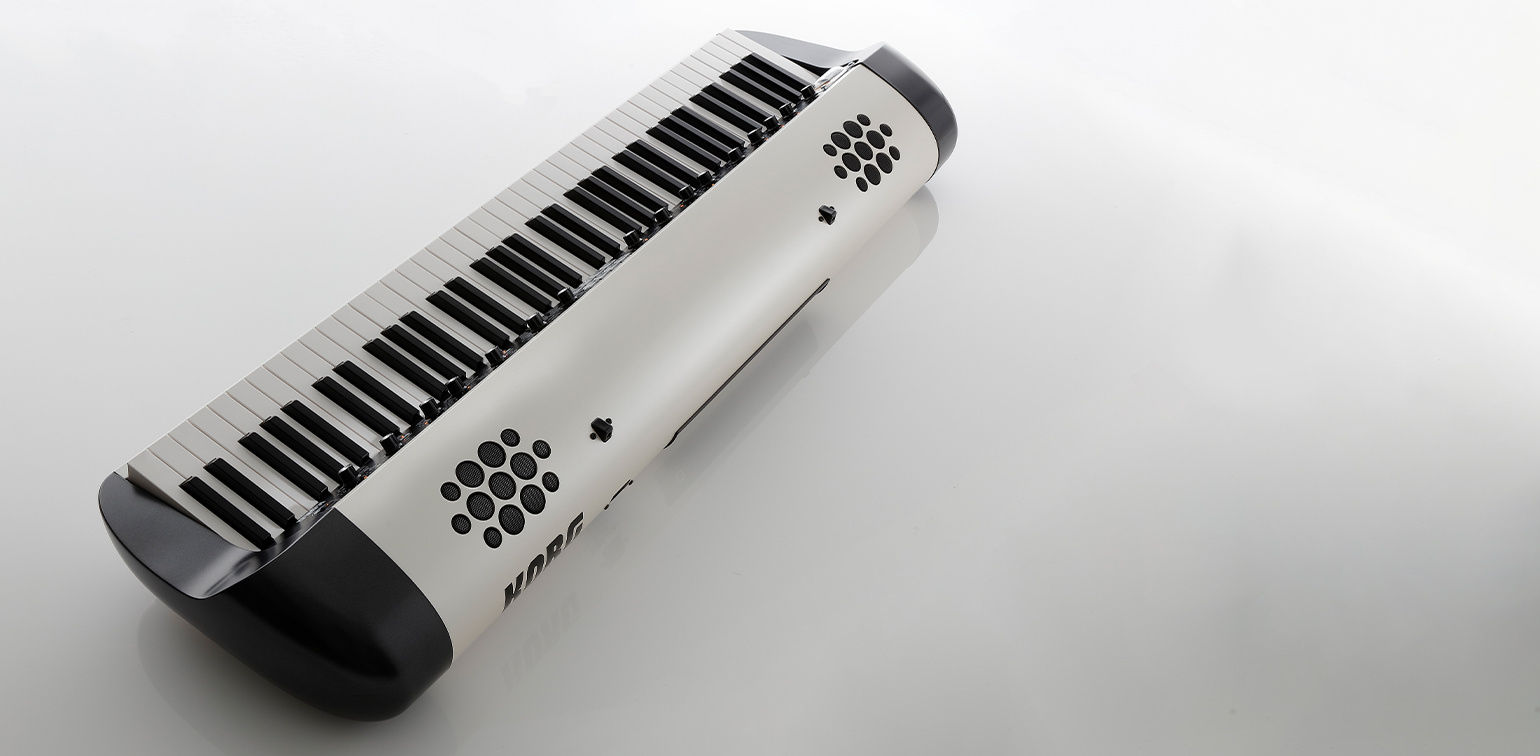 SV-2
STAGE VINTAGE PIANO
SV2-73: 53 890.00 CZK / 2 199.00 €
SV2-88: 56 290.00 CZK / 2 299.00 €
SV2-73S: 58 790.00 CZK / 2 399.00 €
SV2-88S: 66 090.00 CZK / 2 699.00 €

---
Koupit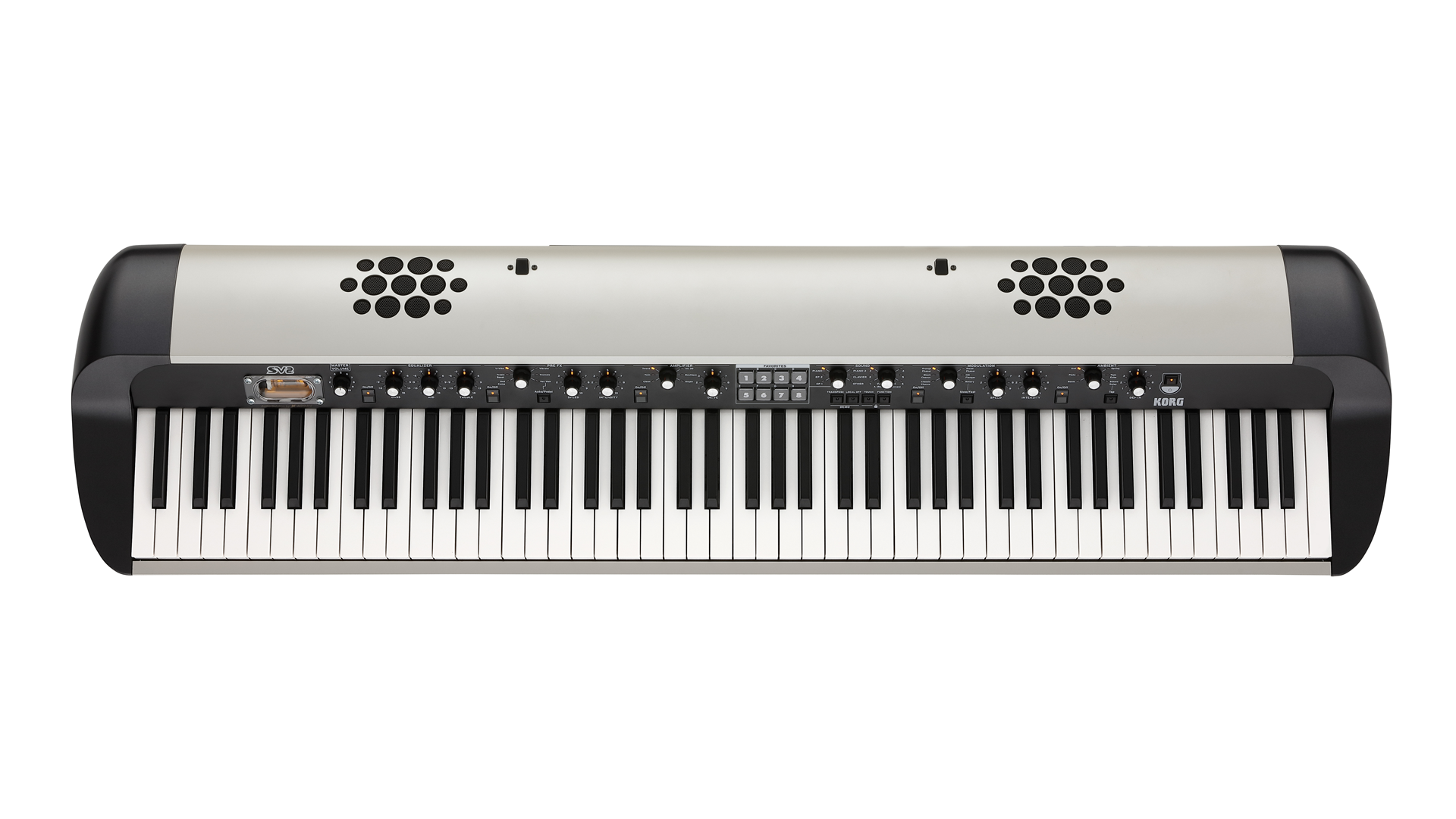 SV-2
Podiové nástroje
Ke stažení
Keyboard
SV-2/SV-2S (73 keys): 73 keys (E to E), Velocity sensitive KORG RH3 (Real Weighted Hammer Action 3)
SV-2/SV-2S (88 keys): 88 keys (A to C), Velocity sensitive KORG RH3 (Real Weighted Hammer Action 3)
Touch selection: Eight curves
Tuning: Master Transpose, Master Tune, Tuning curves
Sounds
Sound generation: EDS-X (Enhanced Definition Synthesis - eXpanded)
Maximum Polyphony: 128 notes
Multi Sound: Layer, Split
Factory Sounds: 72 (6 Basic sounds x 2 sets, 6 variations)
EP1 (Vintage): MK I Suitcase, MK I Stage, MK II Suitcase, MK II Stage, MK V Stage, MK V Bright, Dyno EP, Dyno EP Bright, Wurly, Wurly Classic, Wurly Dark, Wurly Bright
EP2 (Various): FM Piano 1, FM Piano 2, FM Piano 3, FM Piano & Pad, Pianet T, Pianet N, Hybrid Piano, Hybrid Tine, Wurly & Strings, FM & Strings, MK II & Pad, FM & Pad
Piano 1 (Acoustic): German Grand, German Classic, Italian Grand, Italian Bright, Japanese Grand, Japanese Bright, Austrian Grand, Austrian Classic, Japanese Upright, Upright Bright, German Upright, Rock Piano
Piano 2 (Various): Electric Grand, German Mono, KORG M1 Piano, KORG SG-1D, Digital Piano, Electra Piano, Tack Piano, Honky-Tonk, Piano & Strings, Piano & Pad, Piano & Synth, Piano & Brass
Clavier: Clav AC, Clav AD, Clav BC, Clav BD, Harpsichord, Harpsichord Oct, Perc. Organ, Rock Organ, Jazz Organ, VOX Organ, Church Organ, Pipe Organ
Other: Full Strings, Classic Strings, Tape Strings, Strings & Voices, Warm Pad, Bright Pad, Orchestra, Pizzicato & Glock, Brass, Synth Brass, Pad/Mini Lead, Pad/SynthLead
Favorite sounds: 64 (8 banks x 8 variations) for saving of customized settings
Effects
6 effects (5 effects + 1 total effect)
Equalizer: Bass, Mid, Treble
Pre FX: Red comp, Treble boost, U-Vibe, Vibrato, Tremolo, VOX Wah (Auto or Pedal control)
Amplifier models: Clean, Twin, Tweed, AC30, Boutique, Organ Amp + Cabinet Models, Valve Reactor Technology – 12AX7 (ECC83) valve
Modulation: Classic Chorus, Black Chorus, Orange Phaser, Small Phaser, MX Flanger, Rotary (Slow/Fast control)
Ambient: Room, Plate, Hall, Spring, Tape Echo, Stereo Delay (Tap tempo)
Total FX (only editable with SV-2 Editor): Stereo Mastering Limiter, Stereo Limiter
Panel controls
Master Volume, Transpose, Local Off, Touch, Function
Sound Select: TYPE knob, VARIATION knob, FAVORITES 1–8 switches
Favorite Sound select: 1–8 switches, SOUND TYPE knob
Effect Control:
Equalizer: On/Off switch, BASS knob, MID knob, TREBLE knob
Pre FX: On/Off switch, TYPE knob, SPEED knob, INTENSITY knob, AUTO/PEDAL switch (available when the TYPE = Vox Wah)
Amplifier: On/Off switch, TYPE knob, DRIVE knob
Modulation: On/Off switch, TYPE knob, SPEED knob, INTENSITY knob, Slow/Fast switch (available when the TYPE = Rotary.)
Ambient: On/Off switch, TYPE knob, DEPTH knob, Tap (available when TYPE = Stereo Delay)
Input/Output connections
Audio Output: L, R connector (XLR balanced), L/MONO jack, R MONO jack (6.3 mm [1/4"] unbalanced), stereo phone jack on the front panel 6.3 mm [1/4"].
Audio Input: L/MONO jack, R/MONO jack (6.3 mm [1/4"] unbalanced)
MIDI: IN jack, OUT jack
USB: 2.0 Type B connector (doubles the MIDI Interface)
Damper Pedal: KORG DS-2H (included), DS-1H(sold separately)
Pedal 1: PS-1 foot switch, PS-3 foot switch (sold separately)
Pedal 2: Volume/Expression, XVP-20, EXP-2, PS-1 foot switch, or PS-3 foot switch (sold separately)
Amplification (SV-2S)
Speakers: 2 x 2.5" with 2 x 3" passive radiator
Amplification power: 2 x 15 W
Main specifications
Power Supply: Internal switching adapter, AC 100~240 V, 50/60 Hz
Power Consumption: SV-2: 16 W, SV-2S: 25 W
Dimensions (W x D x H, excluding music stand):
SV-2/SV-2S (73key): 1,143 mm x 347 mm x 157 mm/45.0" x 13.66" x 6.1"
SV-2/2V-2S (88key): 1,356 mm x 347 mm x 157 mm/53.3" x 13.66" x 6.1"
Weight (excluding music stand)
SV-2 73key: 17.2 kg/37.91 lbs, SV-2S 73key: 18.3 kg/40.34 lbs
SV-2 88key: 20.35 kg/44.86 lbs, SV-2S 88key: 21.45 kg/47.28 lbs
Others
Included Items: Power cable, Music stand, DS-2H damper pedal, Quick Guide.
Accessories (sold separately): ST-SV1 piano stand, CB-SV1 carrying bag (73 and 88 version), DS-1H damper pedal, XVP-20 EXP/VOL pedal, EXP-2 foot controller, PS-1 foot switch, PS-3 foot switch
* All products names and specification names are trademarks or registered trademarks of their respective owners.
* Appearance and specifications of products are subject to change without notice.